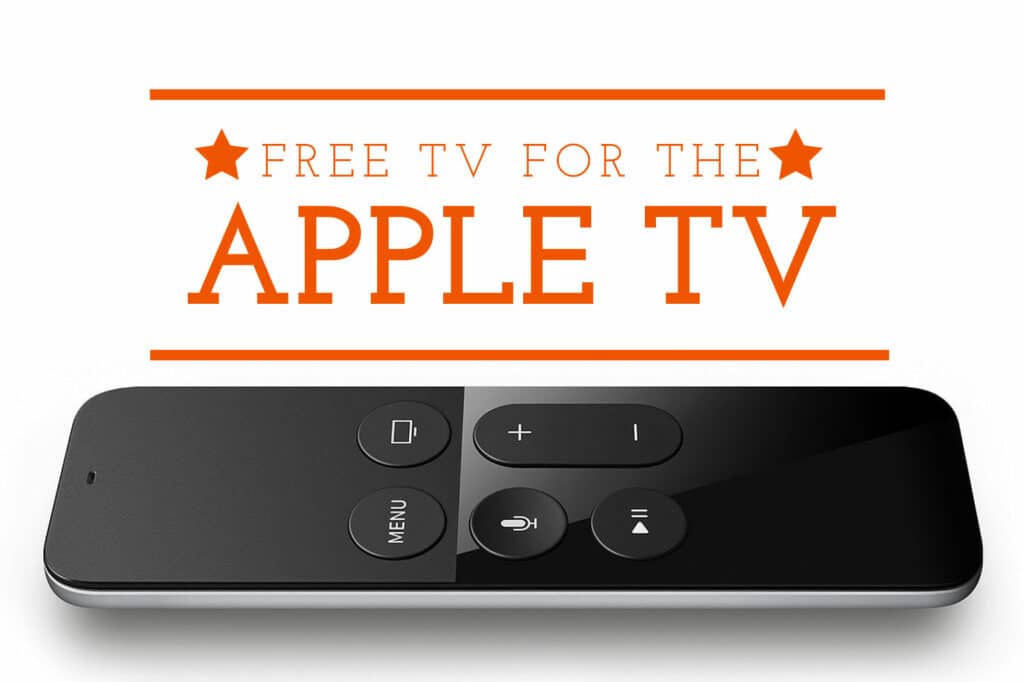 We recently purchased a home and decided that we were going to cut cable entirely. This was a pretty big deal (mostly for me) since I luvs watching me some meaningless dribble from time-to-time. The wife didn't really mind as long as she could still watch The Bachelor. So it was decided: no cable television, and we would solely rely on what we could find on Hulu or any other subscription service.
Then we started to realize that not all shows are online, and even the ones that are wouldn't be available until days later when the network would upload the show to a streaming service. And, well, that just wouldn't do. So off I went on a crusade to figure out how to get FREE over-the-air (a.k.a. O.T.A. smh tmi? idk idc…) television.
Being an admitted Apple fanboy, I really wanted to get the live television to work through the newest Apple TV (4th Generation). Since the newest Apple TV allows apps to be installed, the hunt for a solution to free TV on the Apple TV started there.
Things Needed for Free Live TV on Apple TV
Channels ($15)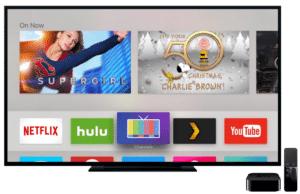 I came across this app on the Apple TV and thought this was the solution I had been hoping for. At a measly $15, I could buy the app one time and have free television for life! Wrong. This app is just the start, but it is an essential component to getting free tv on the Apple TV.
HDHomeRun Extend ($169)
What HDHomeRun has done is taken a normal television signal, be it cable television signal or O.T.A. signal, and broadcasts that signal over your home wifi. It's pretty awesome. They have a few different versions, but the best solution I found for the Apple TV at least was the HDHomeRun Extend, which allows for two channels to be viewed (or recorded, more on that later) at a time on your wireless network. This includes the ability to watch television on not only your Apple TV, but also many other compatible devices including iPhones and iPads. Slick.
But alas, I still don't have any free television coming into my house. Next up, the antenna.
ClearStream Antenna from Antennas Direct ($35-$100)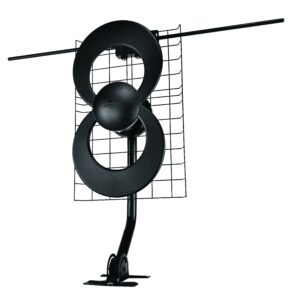 When looking for an antenna you'll want to first visit this website (or similar sites) to see how far away you are from the nearest broadcast tower. In my case here in Las Vegas, I was about as far away from the towers as possible (being 30+ miles). I took my chances with a powered antenna from Walmart that allowed me to receive a few of the channels, but the quality was really choppy. I looked on Amazon and found this ClearStream antenna and it had rave reviews, so I purchased that one thinking it would solve all my troubles.
Nope, it didn't. Turns out I ordered an antenna that only received UHF channels when half of the networks were broadcast on the VHF spectrum. Waa waa. Well, this is where I got smart. I actually picked up the phone and called the lovely people at Antennas Direct. The woman who answered the phone was incredibly helpful, looked up my address, and told me the exact antenna I needed to purchase. I recommend you do the same, here's the number: 877-825-5572. I know, who calls people these days? I'm with you. But the experience was so pleasant and quick, it's worth the countless hours you'll spend trying to figure it out otherwise. She even told me where I could pick one up locally, which I did that same day from Best Buy. For my situation, the ClearStream™ 2V Long Range Indoor/Outdoor HDTV Antenna was the best solution.
Installing the antenna is probably going to be the trickiest part about all of this. You will have to install it somewhere with a pretty good line of sight towards the location of the broadcast towers. I installed mine in the attic. Most costly part was the time it took to do it, but it wasn't hard to do. THEN you have to run a coaxial cable from the antenna to your HDHomeRun box. Luckily mine was pretty much directly below where I installed the antenna. I imagine running that cable could be the most annoying part for most people. Be creative. Maybe run the cable outside like the Satellite companies do then run it back into your house at the room you need it in. Just an idea. (Disclaimer: I'm not an electrician nor cable-runner guy. I have very little idea on how running that cable works logistically with laws and ordinances in ANY jurisdiction… so… good luck.)
Can I record Free O.T.A. Television on the Apple TV?
Well this is the next hurdle to solve. HDHomeRun is currently in an "early access" phase with their DVR component to the system, which if you order it now you get a discount on the device. I'm still waiting for that component to arrive, but once it does I'll update how it works here. And I've already confirmed with the Channels App guys that the DVR will be supported with their app once it is out of this "early access" phase:

@neonbrand Yes we plan on it, see the FAQ on our website.

— Channels App (@getchannels) December 29, 2015
Cost of Free TV on Apple TV
But wait, how does "Free" TV actually cost money? Well as you can see above, you're going to have to spend anywhere from $150 to $300 to get up and running with your "Free" broadcast television. But if I'm doing my math right, that's the cost of approximately 2 months of DirecTV or Dish Network services, so after that you're in the green! I'd say it definitely pays off.
Is there a monthly charge for Free TV on the Apple TV?
Now come on, I already tricked you once with saying it was free… This one is for reals. No monthly fee for this type of connection. There are definitely other ways to watch live television without (slingbox is an example), but we're not talking about those here… ain't nobody got time for that.
Once you buy the equipment listed here, you'll be good to go into the foreseeable future. In summary, you're shopping list: