So about a year ago, we were desperate for information on how to get our kid into the Golden Knights kid hockey program, and it was very, very hard to obtain. You would think there would be a website that very simply laid out how it works to get your kid into hockey in Las Vegas, but nope. Not one that I could find, at least.
So after having navigated the system for about a year now, I'm finally getting an understanding of the steps to get your kid into hockey with the Golden Knights. Here is what I've learned.
This is all for kids 10 and under. Most of the kids fall between the 7-10 years old, although there were definitely younger kids, as young as 4 or 5 in Learn to Skate and Learn to Play.
The Order of Golden Knights Skate Programs for Kids
---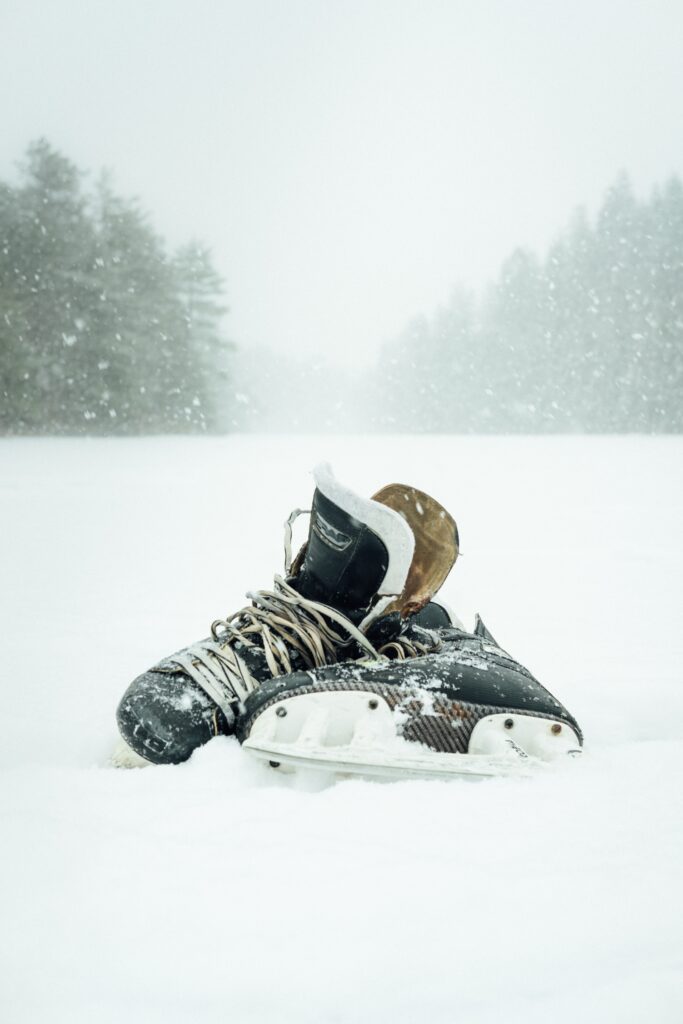 1. Learn to Skate
The first step is skating; your kid has to know how to ice skate. We signed our son up for the Learn to Skate program, and since he was already very familiar with skating, they bumped him up through the levels very quickly. I've heard you can test out of Learn to Skate by talking to the coaches, but no one ever offered us that option, so I cannot confirm if that is true or not.
From what I saw, this program will help most beginner skaters become fairly decent on the ice. Some kids can hardly stand up on skates when they start, and then there are kids who can already skate pretty well, along with everything in between. If you're not sure if hockey is for your kid, this is the place to start.
Learn to Skate was once a week, with varying days of availability, for 50 minutes of skating.
The price was around $150 for a 6-week session. You have to keep doing Learn to Skate until your child passes all of the levels and can advance to Learn to Play.
---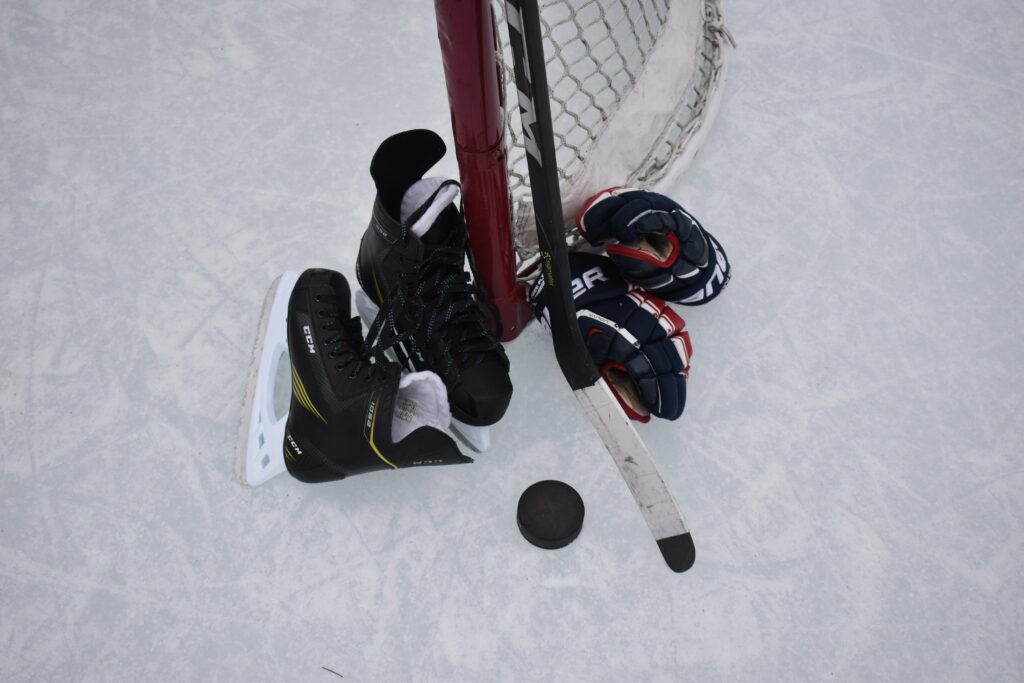 2. Learn to Play
After your child passes all the levels of Learn to Skate, they're ready to learn some hockey knowledge.
The most exciting part about Learn to Play is that they get hockey gear included in their membership. It coincided with Christmas for us, so it was an awesome "free" Christmas present! It was a fun day when all of that arrived at the house.
Now that they have their gear, they're ready to start learning how to control the puck.
Learn to Play is a once-a-week program like Learn to Skate, but the format alternates every other week. One week they're doing drills and exercises, and the next week they do a mini-scrimmage amongst themselves. *Update: they've changed the program, now it's 3 weeks of practices and then a scrimmage.
At the scrimmages, points are not kept, and teams are not formed. It's usually divided by jersey color, but sometimes if not enough kids show up, they'll throw a colored penny on one of the kids so they can have even teams. The scrimmages are to get them used to hustling after the puck and shooting on the fly.
The scrimmages are held on one-third of the ice (side note: you'll hear the coaches call the ice rink the "sheet of ice"… so that you're up on the lingo).
The practices and the scrimmages are both about 50 minutes in length.
The price for this one was around $150 for an 8-week session.
---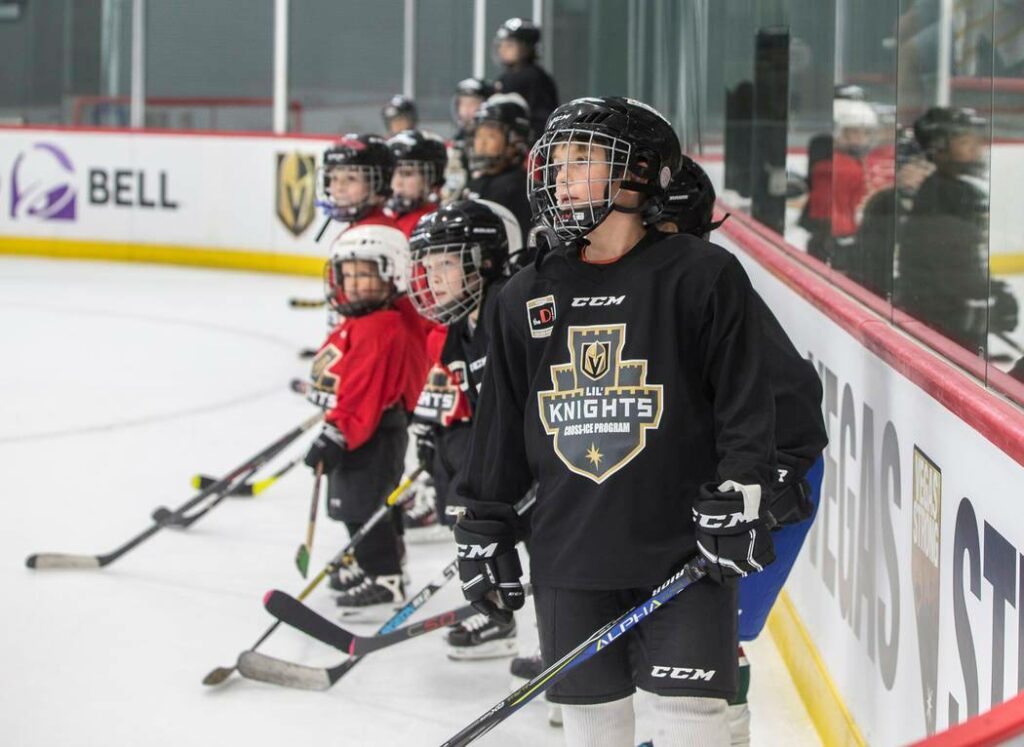 3. Lil' Knights
You've made it! Your kid is officially a Knight! Well, kinda. Ha.
Lil' Knights are the closest you get to being on an actual team without being on a team. This program is basically an accelerated Learn to Play program. Instead of once a week, they meet twice a week. The first one is a practice on a weeknight and the second one is a scrimmage on a Saturday.
Your child is not on a formal team with a coach; it is run by the arena coaches (who are phenomenal, by the way, more on that later).
You also get a new jersey when you join Lil' Knights.
The price for this one is around $200 for another 8-week session.
---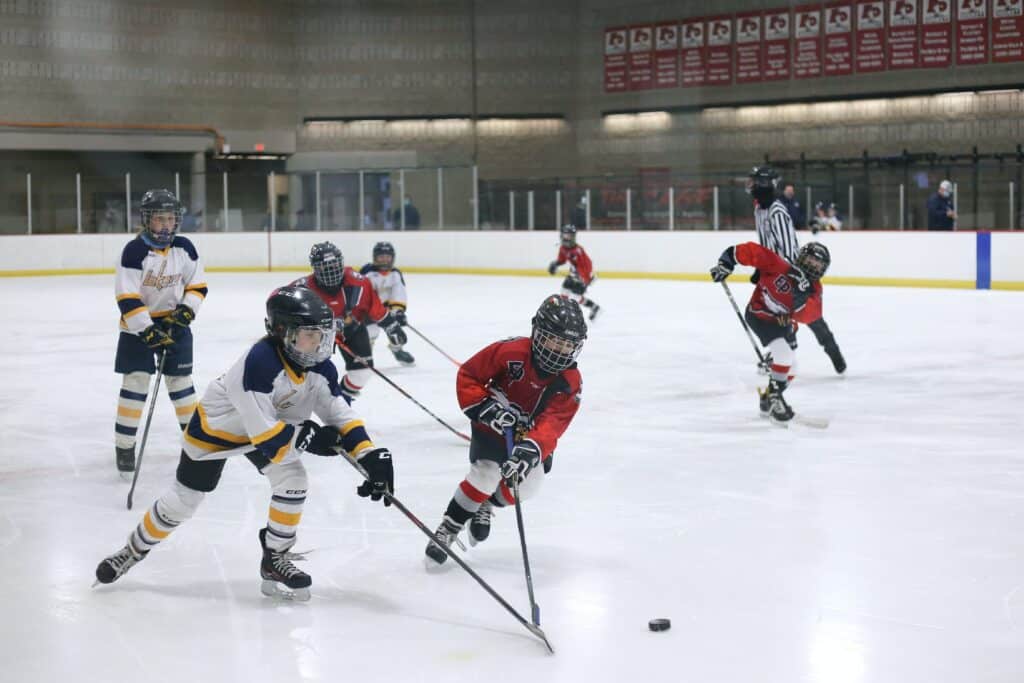 4. House League!
You've finally made it to real hockey!! This is the pinnacle of fun for our family. We love it.
To start, all of the boys who have signed up for House League come to a sort of "tryout." It's not really a tryout, but the coaches are all there looking at the boys trying to make even teams. That way, one team doesn't get stacked with all the stellar skaters.
From there, they're placed on teams, names are given to the coaches, and they'll contact you to let you know your schedule! In House League, they finally get a numbered jersey with their name on the back. That's an exciting time too.
This is a twice a week program too, practice on a weeknight and a game on the weekend. Games can be held on Saturday or Sunday at either City National in Summerlin or Lifeguard Arena in Henderson. It doesn't matter where you signed up; you play at both. You do play more at your "home" ice, but there's no exact number.
I've gathered that many kids want to skate and play hockey, which makes it hard to schedule for these leagues. The league does its best to make it work for everyone, but the scheduling can be a little crazy. Some weeks there's simply no ice available, so our coach has been awesome and set up stuff at a local outdoor park with a roller hockey rink. The boys have loved that.
The price for House League is where things start to get serious. This league lasts for about 6 or so months and costs around $1,000. That's right, the price is legit at this point.
---
5. Travel League?
We're not here yet, so I'm not sure what this entails! But I think it follows after House League or maybe in the alternative to house league.
The Value
I've grown up playing sports and have been around a lot of different sports with our children. This hockey program, by far, is the most impressive kids' sports program I've ever been around.
The Coaching
The big difference with hockey compared to other sports is the coaching. Think about it, for soccer or even football, you often get some dad who likes the sport but may or may not know anything about how to actually play. With hockey, you get premium coaching at all levels because in order to ice skate or play hockey… YOU HAVE TO KNOW HOW TO DO IT! Or else you'll fall on your butt and look like a fool… and no one wants that.
The Venues
With the Knights program, you get to skate at either the beautiful City National arena (the practice facility for the Golden Knights) or the beautiful Lifeguard Arena (the practice facility for the Silver Knights). Both facilities are practically brand new and very well kept.
The other reason we love the venues, especially compared to other sports… Air conditioning! It's Las Vegas, it's hot, and if you've ever been to a youth game on a field of grass… it can get MISERABLE. Not with hockey! If anything you get chilly being that the temps are usually around 60-65 degrees inside the venue. It's friggen awesome.
Being a "Knight"
If you're a fan of the Golden Knights, and if you live in Las Vegas and you're reading this post… you probably are… It's awesome to have a kid in their program. Not that there aren't really any perks to it at all, honestly. It's just an awesome connection to the team that feels cool when you're there like you're part of something much bigger. One cool thing once you get to House League, the kids did get to pick jersey numbers which are all based on the pro players.
The Downsides of The Golden Knights Kid Hockey Program
There really isn't much downside to this program at all, really… but if I were to pick anything it would be:
The Price
Hockey is definitely much more expensive than other youth sports… but the value is there. It doesn't make it any less painful paying those bills, though.
…The Price
Oh, I already said the price? It goes on. One thing we were told when we started Learn to Play was that the gear they gave us would last until he grew out of them. Welllll that's only partially true. We just found out that when they get to House League that gear they got for Learn to Play is some weak gear, and we'll be needing to upgrade soon to keep our son protected from the increased speed and hits.