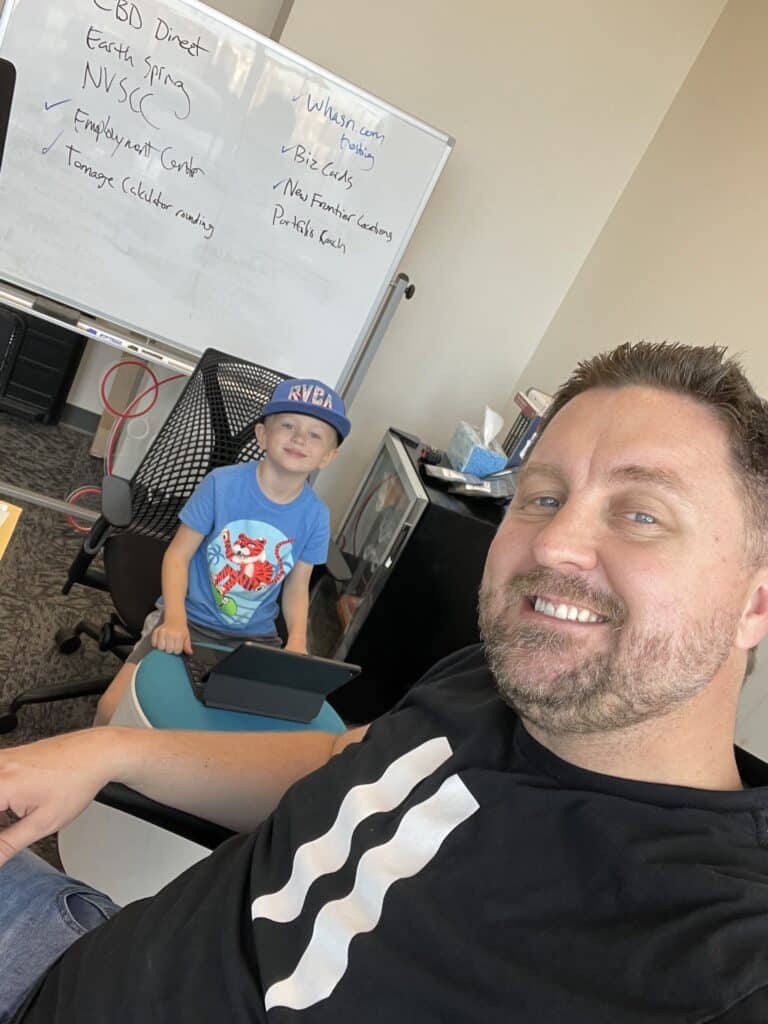 In April of 2021, a good friend of mine started doing Keto and somehow talked me into doing it with him. I usually HATE diets, never have time for working out (and feel like working out never works for me), and generally didn't care to try and do anything about being overweight. There was also a part of me that didn't really think I was overweight at all…
I'm 5′ 11″ tall (couldn't ever quite breakthrough that 6 ft mark), and in April 2021, I was 248 lbs. Today, as of this writing (August 25, 2021), I'm still 5′ 11″… BUT I'm at 196 lbs and counting. It has been almost 4 months to the day, which means I've lost 52 lbs, averaging 13 lbs lost per month, or around 3 lbs per week. And the best part, I've never gone hungry, haven't tracked any calories, and haven't worked out for a single minute. That probably sounds too good to be true… which if it didn't happen to me, I would definitely be thinking that as well. This blog sets out to explain what I've learned and provide tips for those considering a weight loss program.
What is Keto?
If you're like me, you've probably heard the word "Keto" but have no idea how it actually works. Here's a little background on the subject.
Our bodies typically use a primary energy source, and for most of the world, that source is carbohydrates. Carbs are a fast-burning fuel that the body can burn quickly and easily. In today's modern society, carbs are found everywhere. We eat a ton of them on a regular diet, way more than we should. Pro-tip, sugars are also carbs, and we take in WAY too much sugar too.
When one decides to go "Keto," you lower your carb intake to insanely low levels, starving your body of that energy source. Then an amazing thing happens, your body attempts to find another fuel source, so they start burning the next best thing… fats.
Ketosis is the state your body is in when it has switched from carbs to fats for fuel, ergo the name "Keto."
So while in ketosis, you're just feeding your body fats to burn for energy, and it's sweet because while it's burning the food fats, it goes ahead and burns some of the other fats laying around too… and off falls the weight.
Weighing In Everyday
I read on a blog somewhere back at the beginning that weighing in every day somehow helps. I'm a big data fan, so weighing every day sounded like data gold.
This was really different than what most other diets recommend. Before that, I'd heard "only weigh in once a week" so that you don't get moody about the changes.
I disconnected from that mentality entirely and used it as strictly a data point. Over time I have actually been able to track weight changes with things I'm eating almost exactly. I can guarantee if I eat a low-carb tortilla, my weight will increase the next day (probably due to retaining water).
And I REALLY like my scale; it puts all the data right into my phone so that I can track all the things. Here it is if you want one too:
What to eat?
When I first started this whole idea, figuring out what to eat was the hardest part. My awesome wife found this website called Keto Custom Plan that really helped get us started. You plug in your likes/dislikes, how much you want to work out, and then like magic, it comes up with a meal plan of things you'd probably like to eat along with the grocery shopping list to ensure you have all the ingredients. It was a great way to get us started.
We ended up not using it for very long because once we figured out what a keto meal looks like, we could come up with a lot of stuff on our own.
The biggest thing is to eat things that have little to no net carbs. Net carbs are your secret, which is basically total carbs minus dietary fiber = net carbs. Most meals I eat have 5 or fewer net carbs.
Lots of different sources on the internet say that to stay in ketosis, you have to eat less than 50 carbs a day, but I found it easier to try and stay down around 20 carbs a day, and only every once in a great while do I go up to 50.
Cheat days
Sooo… every other time I've tried dieting, I have looked forward to cheat days… In the past 4+ months, I haven't taken a single cheat day. BUT that is because I don't feel like I have to cheat. They say keto curbs the sugar appetite, which I think it has. But I also have some good treats that help me out too, see below.
Treats
It turns out there are LOTS of low-carb treats out there these days. Here are some of my favorites:
"Zero" Soft Drinks
I'm a Mountain Dew fan primarily, but any of the "zero" drinks have no carbs in them at all and are great ways to quench that sugary desire.
Quest Nutrition Bars
Quest has a ton of awesome treats. They're sold at most 7-11 stores, and lots of other gas stations carry them too. Some of the favorites are:
Protein Bars
Snack Bars
Peanut Butter Cups
Gooey Carmel Candy Bites
CLICK HERE to view all of their awesome products and get $10 while you're at it!
Snacks
Snacks are the secret to success on Keto. I always have snacks around to munch on stuff throughout the day to keep the metabolism going without overdoing it on a large meal.
Pepperonis
I have grown to love this snack. I've eaten more pepperonis in the past 4 months than I'd like to admit. Tasty, no carbs, easy, perfect snack.
Cheese
This one has been great because I've always been a huge cheese fan. We now are sure to keep likes of string cheese on hand, along with a block of Colby jack and even a few other flavors to change it up every once in a while. I've really become a fan of pepper jack through all of this.
Quest Snacks
Again, Quest comes through in a pinch. Some of their favorite snacks I like to eat are the:
Protein Chips
Protein Cookies
Did I mention you get $10 if you buy something using this link?
Food Schedule
I've found my rhythm for a food schedule that works for me. Not to say it works for everyone, but I've definitely got this locked in, and it gets me through the day.
The first thing to talk about is my food mentality; I'm to a place where food isn't for pleasure. It's for fuel. So I don't dwell on finding something amazing to eat for every meal. I need the fuel. Yes, the occasional extra tasty meal is awesome, but it's rarer that it happens that way.
Breakfast
I kind of think this is my biggest game-changer to my long-term eating, even post keto. I eat 6 eggs for breakfast every day. Yes, 6 eggs. My business partner once told me that's how many eggs he ate, and I thought it was impossible to eat that many eggs. It turns out it's not. And here's why it has been awesome.
In the past, breakfast was always the meal I either skipped entirely or skimped on big time. Usually, because I'm rushing to get out the door, it was easy to go and figure out food later. I'm pretty sure that was a big mistake.
Now I start my day with that huge breakfast, which has a lasting effect throughout the day. My day begins super full starting at breakfast. This makes it easier not to stuff myself for lunch. It also kickstarts my metabolism for the day so that I'm burning calories early. I think this has been a big factor in my weight loss.
I usually scramble my eggs and add a lot of cheese with salt and pepper. That's it. Until recently, I thought it was a zero-carb breakfast because eggs and cheese didn't have carbs… It turns out they both contain less than one carb per serving, so all in, I'm maybe at 5 carbs for breakfast. Not a bad start.
Mid-Morning Snack
Around 10:30, I grab a protein bar, usually less than 5 net carbs, and eat that to keep me going. It's not even that I'm really that hungry by then; it's more of a mental satisfaction of eating something. I also feel like it keeps my fuel tanks full to keep burning calories throughout the day.
Lunch
I usually make a light lunch, not always, but usually. If I have a lunch meeting, I'll usually get a salad wherever we go, something light with little to no carbs. I'll often skip lunch if I'm still feeling good after my mid-morning snack.
Mid-Afternoon Snack
Around 3:00 or so, I'll usually grab something else from my Quest Nutrition list and much on that. Maybe some protein chips or a different snack or protein bar. Just keeping the fuel levels high but trying to take in as few carbs as possible.
Dinner
For dinner, I've had to make some big changes. My wife is so awesome and usually makes great meals for the kids and me. But sometimes it isn't very pleasant to cook for someone doing keto, and it's easier to make pasta of some kind, which leaves me on my own. I've grown to be totally okay with that and usually whip something up for myself, maybe a freezer low carb meal or something using the ingredients from the meal she makes.
For example, they had spaghetti and meatballs one night… I grabbed a bunch of the meatballs, put a little sauce on top, and covered it with mozzarella cheese, and voila! Low carb dinner!
I also found low-carb alternatives to some dinner favorites, like enchiladas, for example. My wife makes the best enchiladas, and I love them. So we found some low-carb tortillas, Mission Tortillas makes some, and there's another company called "Extreme," I think, that makes some other ones. With those tortillas, she's able to put in the meat and cheese and even some light sauce to give me a low-carb alternative!
We also have grown to really like grilling food like chicken, steak, and pork. Then we steam some broccoli or asparagus, and we've got one delicious meal.