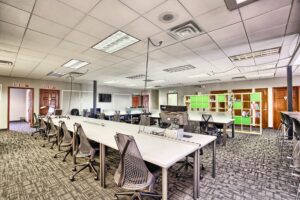 Coworking is like a gym membership for office space. When coworking, you typically pay a monthly fee which gives you access to some or all of the amenities which the coworking facility has to offer. Because there are no leases or long term commitments usually required, many are calling coworking the "Uber of office space."
Turns out almost half of my friends (that participated in this FB poll) are still unaware of what exactly is coworking. Hopefully this will help spread the idea of coworking to friends that might find it useful!
Coworking is a new alternative to the old-fashioned leased office space. Gone are the days where you have to sign a long-term lease with a landlord in order to get to work. With coworking, you sign up one day and you can get to work that very same day, and if in a couple months your work situation changes, then you can adjust your membership accordingly.
Coworking is also much simpler than leasing an office space because all of the utilities and most of the typical expenses that come with a leased office are covered under your membership fee. You use the facility's internet, the facility's electricity, sewer and gas, and have your space maintained by the facility's cleaners.
Coworking is sometimes more expensive than a typical lease plus utilities and expenses, but if you calculate the opportunity cost of having to manage all of the utilities and lease requirements, that argument can quickly be overcome.
Coworking is also great for individual employees or teams of employees up to any size. One cost-benefit for when your team is growing is that you only pay for the desks you're using, so you can scale up (and down if needed) without taking on a large lease to cover the potential of growing into a larger team.
Coworking is simply for people working in any industry. Some of the industries we see coworking are:
Startups
Attorneys
CPAs
Realtors (pronounced real-ters, per this FB poll… ?)
Remote workers
Developers
Marketers
Non-profits
Pretty much anyone…
A major perk of coworking vs. a typical lease is the built-in networking component. You meet a ton of people while coworking, which is just freaking awesome. I actually believe a ton of the success we've had with NeONBRAND is due to working from coworking since we started. No more having to join Le Tip or whatever too-early-in-the-morning-without-much-results-group you can think of (heh).
There are a lot of coworking spaces popping up around the world. The largest is WeWork, which is worth literally billions of dollars. Then there are a lot of smaller places, like the one we own called Work in Progress. Here are some pictures of our coworking space, which is a pretty standard representation of what you might find in some coworking spaces:
Final point, let's all agree to always spell coworking without the hyphenation… a personal preference, really, but why add extra characters when they're not needed?